Your Physios
The Admin Team
I am a kiwi, born in Christchurch, but moved to the UK where I lived for twelve years before returning home to NZ in 2004. I have had 9 years of experience working as a physiotherapist both in the challenging arena of the National Health Service in the UK and in New Zealand working in private practice. The time in the NHS has given me a wide range of skills and experience particularly in out patient practice and orthopaedics. I have developed a broad but comprehensive knowledge base through my contact with many different cases including muscolu-skeletal, orthapaedic and neurological patients.
I have two degrees, a BSc Sports Medicine and an MSc in Rehab Science and qualified as a physiotherapist in 2001. I have also been a Personal trainer and fitness instructor since 1991 and provided Sports Science support for the Scotland Netball team from 1998 to 1999 in their preparation for the World Championships in 1999 held in New Zealand. I also provided physiotherapy services to the Glasgow Under 16's rugby team in 2002 and more latterly had a short stint with the NZ Seven's team at the Singapore leg of the IRB Sevens Tournament in April 2006. I am currently the head physio for the Mount Sports Rugby Club looking after the Premier team.
I am an experienced Clinical Pilates instructor and have a special interest in spinal strength and stability. I use these skills to the benefit of those with clinical conditions and, coupled with my extensive background in fitness training, in enhancing the sports performance and injury prevention amongst athletes and sports people.
I am an avid sports enthusiast and represented my area of South Waikato and Waikato in age group netball teams as well as athletics. On moving to Scotland in 1992 I was selected for the Scotland Netball team and attended the 1995 World Championships held in Birmingham, UK. After quitting netball I took up rugby and was soon selected for the Scotland Women's Rugby Squad in 1997 achieving full cap honours in 1998 till 2000.

Luke has newly joined the team at Mount Physio. He has come over from the UK with his family to settle in New Zealand and brings with him a huge amount of experience gained within the UK National Health System.
Watch here to see a picture and for some more info about Luke.

Debbie joined the team at Mount Physio in 2010. She was previously working in Whakatane and has earned a reputation as an excellent clinician.
Watch here for a picture and some more info about Debbie.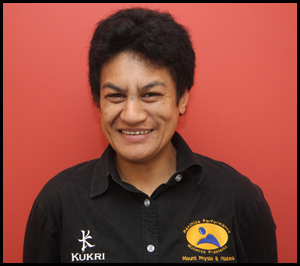 I come from Matakana Island and studied Administration and Computing Levels 2, 3 and 4 at The Bay of Plenty Polytechnic (Bongards Campus). I have been working for Mount Physio & Pilates since May 2007 and enjoy the challenges and new experiences this position presents to me on a daily basis. I am finding the busy clinics keep me on my toes, but have been helped by the very friendly nature of all of the other staff that work with me.

Come back soon to read all about Mia